In just 30 years, the internet has gone from an obscurity to a necessity. A reliable internet connection is required to find and do most jobs, connect with friends, watch TV, read the news, and so many more key daily activities.
However, while the internet may be a necessity much like electricity or heat, this does not mean it comes cheap. Around the US, the average cost of a high-speed internet connection (which, let's face it, is also pretty much required these days) is around $60 per month. Add this on top of everything else that is needed to make a home and things get pricey quickly. For some, when left to choose only a handful of utilities, the internet is often the one that loses out. After all, it's available elsewhere for free, such as in libraries, coffee shops, and restaurants.
If you're struggling to pay for a high-speed internet connection or simply want to save some money, know there are options that will allow you to get online without spending a massive amount of money, or in some cases, any money at all.
To get free or low-cost internet, you can take a few different avenues, which we will discuss in detail below.
How to Get Discounts on Your Internet Bill from the Government
If you struggle to keep up with your internet bills, you don't need to cancel your subscription. There are programs in place that, if you qualify, will significantly reduce the cost of your monthly internet bill.
These types of programs are often funded to reduce the digital divide, which speaks to the inequalities that exist in terms of technology ownership and access, as well as those these discrepancies perpetuate.
Lifeline Support for Affordable Communications
Established by the Federal Communications Commission (FCC), Lifeline Support for Affordable Communications – mainly known just as "Lifeline" – is a government program designed to help make it easier for low-income households to get more affordable access to the internet.
Qualified participants will receive a discount on their monthly bill of up to $9.95 per household. They can use this discount towards either a wireless (for your phone) or wired (for your house) connection, but the discount will not be applied to both.
To be eligible for the discount Lifeline program, you must have an income at or below 135 percent of the Federal Poverty Guidelines, which you can find here. You will also qualify if you are enrolled in one of the following programs: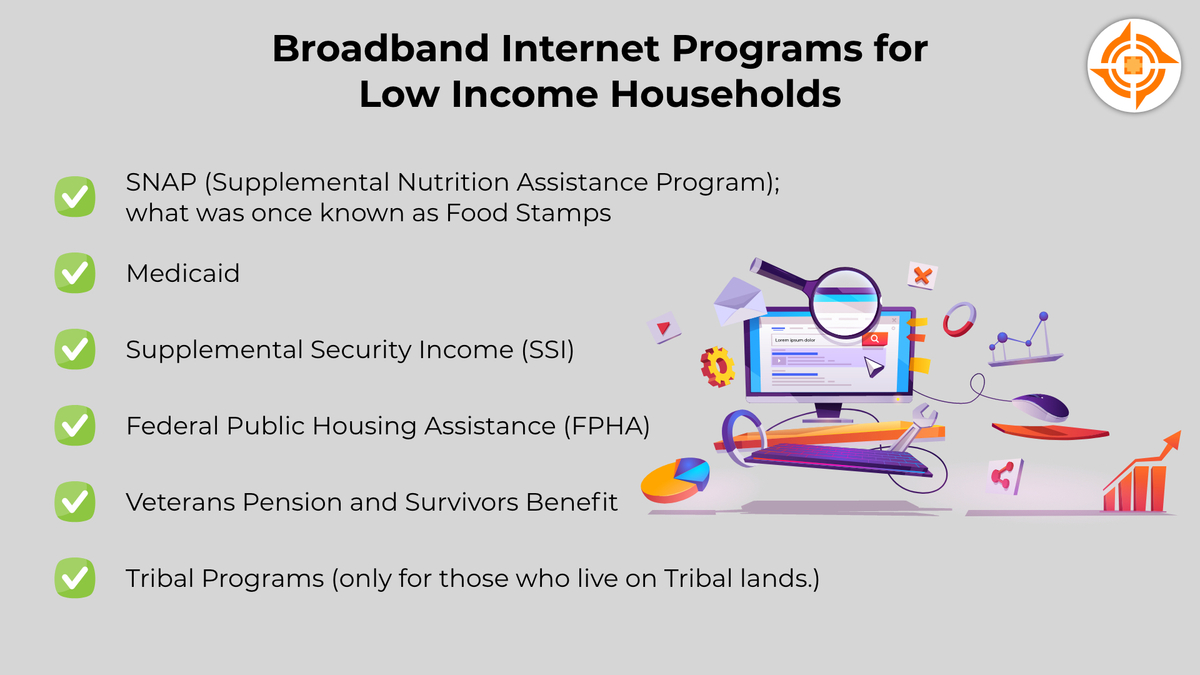 You can learn more about Lifeline here.
If you qualify for Lifeline, you need to fill out the online application and prove that you are indeed eligible. Once approved, you will be able to apply the discount to either your phone or internet bill.
Depending on the area in which you live, you may be able to apply the discount with several different companies, but only if they participate in the Lifeline program. Luckily, most major ISPs and telecommunications companies, such as Comcast, Verizon, AT&T, and Frontier, all do, as well as many others. This means you should be able to find a provider in your area, which will allow you to take advantage of the Lifeline program's discount.
One important thing to remember is that you must renew your Lifeline benefits each year, which means completing the application again and giving proof of your financial situation. If you don't do this, you will be removed from the program, and you will need to start the process over again.
All in all, while Lifeline's benefits aren't tremendous, they can be a big help. Plus, if you shop with discounts in mind and find the best deals, you can actually reduce the cost of your internet to next to nothing.
If you don't qualify for Lifeline, or would like to explore other options, one good place to look is EveryoneOn, run by the not-for-profit group ConnectHome. Established in 2015, the program's goal is to help close the digital divide by bringing internet access to those who don't currently have it.
They partner with internet service providers, device manufacturers, and retailers to help reduce the cost of access so that more people can get it.
Their easy-to-use tool will help you locate some of the best offers in your area, and it will identify which discounts and special programs you qualify for to help bring the cost of your monthly bill down.
In addition, the program offers support to those looking for a solution to the economic burden that can come with a monthly internet bill.
How to Find Cheap and Low-Cost Internet
If you don't qualify for a program but are still having trouble paying for an internet subscription, or just want to save some money on it, there are other options.
Individual ISPs offer their own discounted packages that make it easier to get connected, especially for those who aren't able to pay for a full-price plan but don't qualify for programs such as Lifeline.
In most cases, these plans come with substantially reduced service as compared to their full-price products. But they will get you connected – a necessity in today's world – without saddling you with an undue financial burden.
For those who aren't looking for a basic plan but still want to save money on what are otherwise costly internet bills, there are several things you can do while shopping for internet. Before covering these, though, here's a list of the different programs offered by ISPs to help people struggling with their bills to get connected.
Discounted ISP Plans
Here's a list of the most common plans offered by ISPs to help ensure everyone is connected:
Xfinity Internet Essentials
One of the nation's leaders in internet service, both in terms of speed and coverage area, offers their "Internet Essentials" plans to students, seniors, and low-income families
The whole plan costs just $9.95 per month, and it comes with a connection that is capable of up to 15 Mbps. It's likely users will not experience this speed all the time due to normal variations in network capability. Still, even with half the speed offered, most users will be able to quickly and easily surf the web, use email and social media, and also do some light video streaming.
In addition to internet service, Xfinity, a subsidiary of Comcast, offers discount computers to those who qualify for the Internet Essentials plan, which allows you to buy a computer equipped with Microsoft Office and Norton anti-virus software, for as little as $149.
Not everyone can take advantage of this program, and to find out if you qualify, you need to submit an application to Xfinity and wait to be approved. For families to get this deal, they must have at least one child eligible for the National School Lunch Program.
Overall, Xfinity's Internet Essentials plan is an excellent option for those who qualify as it will get you a decently fast internet connection for just under $10 per month.
Spectrum Internet Assistance
Another option for those looking for a cheaper way to get internet access is Spectrum Internet Assist. This program is a bit narrower in focus than some of the plans offered by other ISPs. It is only available to households where one person receives support from the National School Lunch Program or Supplemental Security Income (only for people aged 65 and over). As a result, Spectrum's program is much more targeted towards families and seniors.
Still, if you fall into one of these two categories, then you should look into the program. You can get internet speeds of over 30 Mbps for just $14.99 per month, which is more expensive than Xfinity Internet Essentials, but the connection is much better.
Spectrum has been known to charge some users an additional $5 per month for WiFi use, so keep this in mind when considering the program. But even with this, the program is solid and is a great way for people to get good internet access for cheap.
AT&T Access
Reserved only for people who qualify for the SNAP Program (what used to be called Food Stamps), AT&T Access is a limited 10 Mbps internet plan that costs just $10 per month.
In reality, as compared to the other offers on this list, AT&T Access is not a fantastic program. It's quite limited in scope, and the quality of the service leaves much to be desired. However, AT&T is one of the largest internet service providers in the country, and many people do not have any other choice when they are shopping. So, considering this, it's good to know there is a plan out there offered by AT&T for those who need help getting access to the internet.
Cox Low-Cost Internet
As a part of the Connect2Compete Program, Cox's Low-Cost Internet plans are designed to make it easier for people to get access to a quality internet connection at a price they could afford. The primary focus is on helping families support their children in their educational pursuits. For that reason, it's available to any low-income family with at least one Kindergarten-12th grade student living in the home.
It costs just $9.95 per month and provides you with a connection around 15 Mbps. Those eligible include recipients of the National School Lunch Program, SNAP (Food Stamps), Temporary Assistance for Needy Families, and Public Housing.
Between March and May 2020, Cox offered free internet connections to qualifying families as part of their response to the Covid-19 pandemic. Check to see if this offer is still valid when searching for an internet connection to see if you can get it for free!
Check Other Providers
These four programs are offered by some of the largest ISPs in the country, so there is a good chance that at least one of them is available to you. But there will be some areas of the country where these companies don't offer service. This doesn't mean you're out of options.
Check to see if you qualify for Lifeline or assistance from EveryoneOn. Do your own research to see if the ISP that does offer service in your area has any discounted options available. Chances are they do, but they just didn't make it onto our list.
Other Ways to Save on Your Internet Bill
If none of these special programs are relevant to you, but you still want to save money on your internet bill, know that there are many ways to do this. We've found the following four to be the most effective:
Bundle
The chances are that in addition to your internet bill you also have a phone and cable bill. While there may be reasons to use different companies for each, the reality is that if you bundle everything together, you will likely save money.
In most cases, internet comes bundled with TV, but if it doesn't, and you're already paying for TV, then reach out to a sales representative to determine how you can change your bill so that you can save money on both services.
Reduce
Another thing you can do is simply reduce the size of your plan. ISPs these days are offering plans that give you anywhere from 100 Mbps all the way up to 1,000 Mbps, but for most users, even those streaming lots of HD videos, only need 25-50 Mbps to have a pleasant experience. As a result, it might be worth it just to downgrade your plan to save money. Monitor how the change has impacted the way your internet works, and then decide whether or not you need to return to spending more money.
Promotional Pricing
Another good thing to do is to take advantage of the many promotions internet companies run to get people to switch services. It might be a pain, but if you're willing to change companies every now and then, you can lock in two-years worth of a great price that will save you lots of money in the long-run.
For those who move relatively often, this is a great plan, but even those who stay in one place can also do it. They just need to be ready to change companies every few years, a process that gets easier over time since the infrastructure only needs to be installed once.
Negotiation
Lastly, for those looking to save on their internet bill, we recommend you raise the issue with your ISP. The prices they list are their advertised prices, but there is wiggle room, and if you call in and express displeasure with your current situation, they are often willing to work with you. From personal experience, this goes a lot better if you inform your current provider that you are seriously considering, and are prepared, to switch to another company if they can't help you. Even if it's empty, this threat can be a great way to gain access to a great discount on your internet plan.
How to Get Free Internet
If you've read through all these options for getting discounted internet but are disappointed because there are no free options, don't fret. You're in luck. Here are some ways in which you can get access to the internet for free:
NetZero
One way to get free internet is to use NetZero, which is free for 10 hours per month to anyone. The catch? It's dial-up speed, which is less than 1 Mbps (around 56 Kbps), which is a snail's pace. However, it will allow you to send emails, message people, and do some painstakingly slow web browsing. Oh yeah, and it's free! If this is the most important thing, then you've now got everything you need.
FreedomPop
If you're looking for free internet that's a bit faster, FreedomPop is a good option. It uses 4G LTE connections to provide you with an internet connection for nothing. Speeds are pretty good – between DSL and cable – but the catch is that you're limited to just 1 GB of data per month, which is enough for again, messaging and light browsing, but won't let you do much streaming.
Hotspots
If you want free internet and are willing to leave your house to get it, look for hotspots you can use. It's become increasingly common for cities and municipalities to invest in a free network in public spaces such as parks and busy streets. Many ISPs offer free hotspots at places where people gather, such as bus and train stations, squares, plazas, shopping centers, etc.
Whether or not you'll be able to connect for free, and how good that connection is, depends considerably on where you're living. But if you spend time one day searching out what's available, you should be able to find something you can use.
Another option is to use your mobile phone. You can turn it into a hotspot and use your cellular data as an internet connection. Of course, this isn't free in the sense that you pay for it as part of your phone bill, but it does give you two-for-one internet access that saves you money. Don't forget that doing this will consume your mobile data allowances, which could cause you problems later on in the month. Still, in a pinch, or for those with an unlimited phone plan, this is a great way to get free internet no matter where you are.
Help From Friends
One last option is to see if you can make friends with your neighbor to see if they will give you access to their internet connection. Obviously, this isn't a great plan, as most people don't appreciate it. Your connection speed will likely suffer, especially as you get further from the router, but it is an option. Perhaps you can work out some sort of arrangement to compensate them in another way so that you can get access to the internet without having to spend any money.
Time to Connect
Getting access to the internet can indeed be expensive, but there are ways to save. For those suffering from true financial burdens, there are many programs out there to help you get access to a discounted plan so you can have what you need in this digital world. For those just looking to save some money, you have some options, although you will need to work harder and may not experience discounts as dramatic. Nevertheless, you don't need to accept at face value the prices ISPs offer. There are many ways to get the same service for next to nothing or nothing at all.